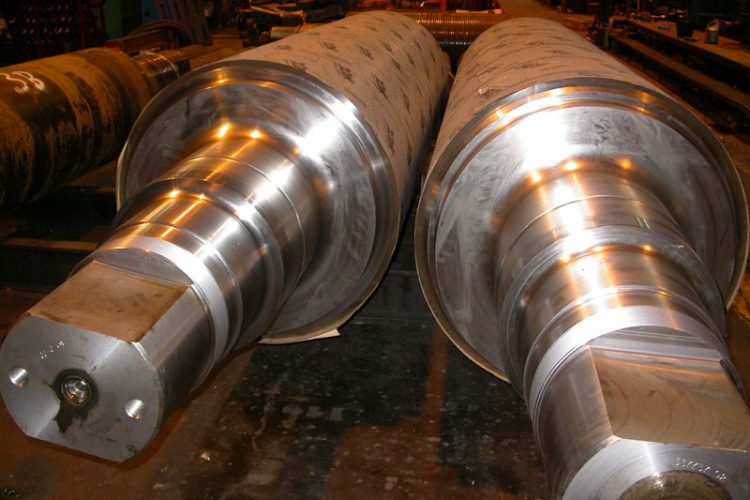 Unlike a traditional rolling mill, a Z-High® mill is a 20-high cluster mill configuration that utilizes cascaded supporting rolls to apply force on the small work rolls in the center. This allows the application of a higher roll pressure without bending the work rolls, which would result in poor metal quality. As a result, very hard and elastic materials can be rolled.
The concept of the Z-High® mill is a revamping of a classic 4-High mill with a system that uses a much smaller work roll. This configuration allows the mill to take heavier reductions per pass and can achieve thinner gauges. Harder materials can be rolled without intermediate anneals; as a result, a better surface can be produced. Moreover, intermediate rolls are equipped with axial shifting displacement and are ground with parabolic tapers at their opposing ends. This allows the mill to change the "effective flat" and provide excellent shape control capabilities that are similar to the 20-High mill.
The evolution to the current 20-High Cluster Sendzimir Mill from the early 12-High configuration was pioneered by Tadeusz Sendzimir in the early 1930s. Many design improvements were made by his company, T. Sendzimir, Inc., including the flexible shaft backing assemblies, segmented idler rolls, along with tapered edge intermediate rolls with lateral adjust for superior shape control. Significant design improvements were made including the flexible shaft backing assemblies and segmented idler rolls, as well as tapered edge intermediate rolls with lateral adjust for superior shape control. With the advent of Finite Element Analysis Technology, T. Sendzimir, Inc. iterated the mono-block housing design to create the Zero Crown Housing solution. This reduced the amount of material required for the housing, while creating uniform elastic deformation across the housing during rolling in order to maintain a better shape profile of the strip.
There are 5 major Z-High installation configurations as follows:
As a retrofit into an existing 4-High mill, the "Z-High® Package" is adapted to an operating mill where the mill can be reconverted back into a 4-High by withdrawing the "Z-High® Insert" and replacing the 4-High work rolls, chocks and drive spindles within 20 minutes.
As a conversion of a 4-High mill to a "dedicated" Z-High® mill and optionally widening the mill at the same time.
As a new Z-High® mill with smaller diameter back-up rolls, smaller chocks and smaller mill housings due to reduced RSF requirements of the Z-High®, as compared to 4-High mill of the same width.
As a new Z-High® / 4-High convertible mill similar to (3) above and built according to new mill specifications
As a tandem mill either in a process line, in line with the other process line equipment, or, in a stand-alone single pass tandem mill configuration.
Because of the versatility in installation, the configuration of the Z-High® results in a smaller capital investment than other alternatives.
American Steel specializes in buying and selling rolling mills, coil processing, and tube, pipe and metal forming equipment around the world.  We have experience and knowledge that gives us a competitive advantage over others in our field to assure that a customer has the right machine to match the job.  Our team is ready to help you with the right solution for your business.
With over 60 years of experience and a real focus on customer satisfaction, you can rely on American Steel Products for your next project.
We provide professional renovation and installation services with a real focus on customer satisfaction. We have proven results for setting exceptional standards in cost control, planning, scheduling and project safety.