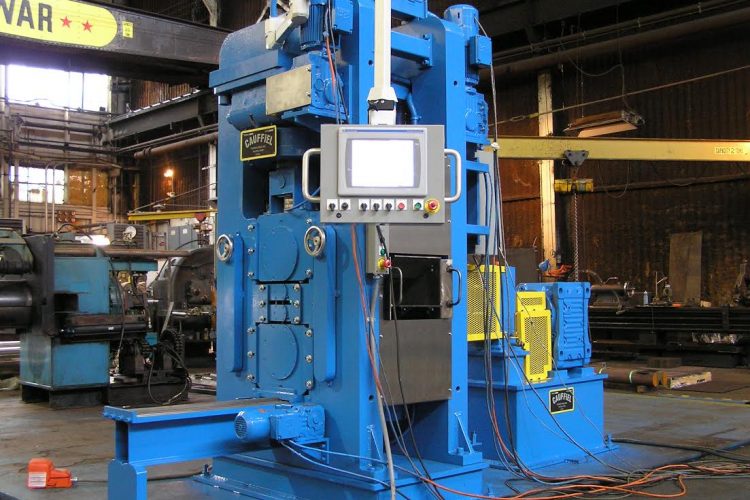 In metalworking, rolling is a metal forming process in which metal stock is passed through one or more pairs of rolls to reduce the thickness and to make the thickness uniform. The concept is similar to the rolling of dough. Rolling is classified according to the temperature of the metal rolled. If the temperature of the metal is above its recrystallization temperature, then the process is known as hot rolling. If the temperature of the metal is below its recrystallization temperature, the process is known as cold rolling.
In terms of usage, hot rolling processes more tonnage than any other manufacturing process, and cold rolling processes the most tonnage out of all cold working processes. Roll stands, holding pairs of rolls, are grouped together into rolling mills that can quickly process metal, typically steel, into products such as structural steel (I-beams, angle stock, channel stock, and so on), bar stock, and rails. Most steel mills have rolling mill divisions that convert the semi-finished casting products into finished products.
There are many types of rolling processes, including ring rolling, roll bending, roll forming, profile rolling, and controlled rolling.
Interestingly, the invention of the rolling mill in Europe may be attributed to Leonardo da Vinci in his drawings. The earliest rolling mills in crude form but the same basic principles were found in Middle East and South Asia as early as 600 BCE. Earliest rolling mills were slitting mills, which were introduced from what is now Belgium to England in 1590. These passed flat bars between rolls to form a plate of iron, which was then passed between grooved rolls (slitters) to produce rods of iron.
Perhaps your company is expanding their operations and a rolling mill of this type is the perfect fit for you, whether it is steel guard rails, automobile parts, either new or aftermarket, incorporating a rolling mill into your operation will set you apart from other supply houses. Having the ability to handle the entire process from need to finish product will make you a leader in your specific field.