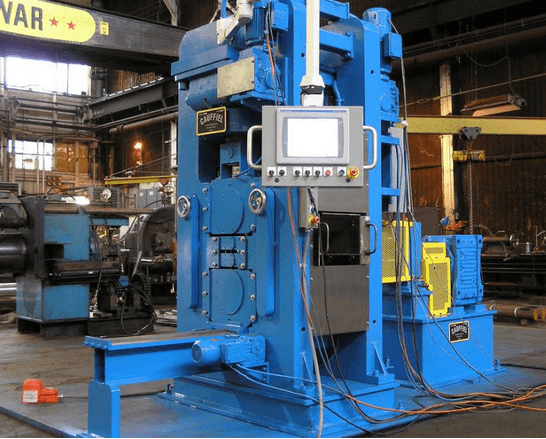 In the past two articles we briefly outlined rolling mills, and also expounded on three different types.   In this article, we will finish the series outlining the differences between a four-high rolling mill, cluster rolling mill, continuous mill and a planetary rolling mill. At American Steel, we believe understanding the differences will help our customers make the correct choice for their specific needs.
Four-high rolling mill
A four high rolling mill is used for reducing material to minute thicknesses.  Through the use of backup rolls, the issues of roll deflection can be avoided and smaller work rolls can be used.  The reduction in work roll diameter reduces overall separating force required for reductions; reduces the overall energy needed for reducing the material and produces more consistent thickness output.
Cluster rolling mill
A cluster rolling mill is a special type of four-high rolling mill in which each of the two working rolls is backed up by two or more of the larger backup rolls which are able to roll hard materials. It may be necessary to employ rolls of a very small diameter but of considerable length to achieve the desired outcome. Hard materials, including stainless steels titanium alloys and nickel alloys may be rolled in these mills.
Continuous Mill
With a continuous rolling mill, the same amount of material must pass through each stand in a given period of time using a series of rolling mills.  If the cross-section is reduced, the speed must be increased proportionately.  The speed of each set of rolls is synchronized so that the input speed of each stand is equal to the output speed of the preceding stand.  The uni-coiler and wind up reel not only feed the stock into the rolls, but also provide back tension from front tension to the strip.
Planetary Rolling Mill
This mill consists of a pair of heavy backing rolls surrounded by a large number of small planetary rolls. The main feature of this mill is that it hot-reduces a slab to coiled strip in a single pass. The operation requires feed rolls to introduce the slab into the mill, and a pair of planishing rolls on the exit to improve the surface finish.
American Steel specializes in buying and selling rolling mills, coil processing, and tube, pipe and metal forming equipment around the world.  We have experience and knowledge that gives us a competitive advantage over others in our field to assure that a customer has the right machine to match the job.  Our team is ready to help you with the right solution for your business.
With over 60 years of experience and a real focus on customer satisfaction, you can rely on American Steel Products for your next project.
We provide professional renovation and installation services with a real focus on customer satisfaction. We have proven results for setting exceptional standards in cost control, planning, scheduling and project safety.