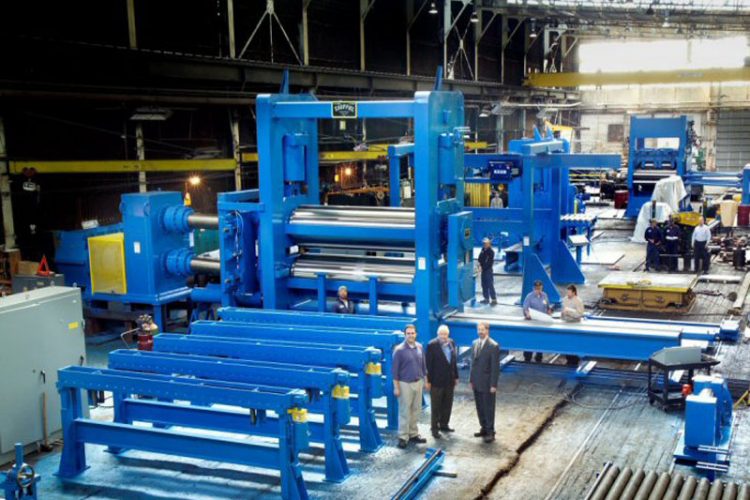 Rolling mills are classified according to the number and arrangement of the rolls.  A two high rolling mill can further be classified as a reversing and a non-reversing mill.
All rolling mills have common construction that is independent of the specific type of rolling required:
Backup rolls – are intended to provide rigid support required by the working rolls to prevent bending under the rolling load.
Rolling balance system – to ensure that the upper work and back up rolls are maintaining in proper position relative to lower rolls.
Roll changing devices – use of an overhead crane and a unit designed to attach to the neck of the roll to be removed from or inserted into the mill.
Mill protection devices – to ensure that forces applied to the backup roll chocks are not of such a magnitude to fracture the roll necks or damage the mill housing.
Roll cooling and lubrication systems.
Pinions – gears to divide power between the two spindles, rotating them at the same speed but in different directions.
Gearing – to establish desired rolling speed.
Drive motors – rolling narrow foil product to thousands of horsepower.
Electrical controls – constant and variable voltages applied to the motors.
Coilers and uncoilers – to unroll and roll up coils of metal.
The two-high rolling mill consists of a two-high stand with two horizontal rolls, placed exactly one over the other. In this type of mill, one or both the rollers are adjustable. In its operation, the metal is passed between the two rollers rotating at the same speed but in opposite direction.
They typically have larger diameter rolls that are positioned with actuators that are either hydraulic, pneumatic or electro-mechanical.
After each pass, the direction is reversed. The metal piece is turned through 90°, which keeps the section uniform and with fine grains. Nearly 25-30 passes are required to convert an ingot into a bloom.
Two high rolling mills are used in galvanized lines, pickle lines, and skin pass mills. Because of the large diameter of the roll, and their ability to bite, softer materials can be used. Materials like hot steel that needs to be reduced from a slab to a plate in a single pass that requires large reductions is just one example. They are also used in the rubber and plastic industries.  They are also used to improve the shape of expanded metal or perforated metal.
American Steel specializes in buying and selling rolling mills, coil processing, and tube, pipe and metal forming equipment around the world.  We have experience and knowledge that gives us a competitive advantage over others in our field to assure that a customer has the right machine to match the job.  Our team is ready to help you with the right solution for your business.
With over 60 years of experience and a real focus on customer satisfaction, you can rely on American Steel Products for your next project.
We provide professional renovation and installation services with a real focus on customer satisfaction. We have proven results for setting exceptional standards in cost control, planning, scheduling and project safety.