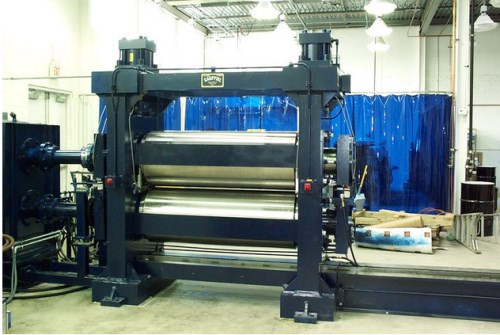 A compacting rolling mill is used for the purposes of converting powder, or powder like materials into a continuous strip.  Typically, the continuous strip is processed through a sintering furnace prior to being processed into finished productions.  A compacting rolling mill is usually a 2-high mill with configurations of either a horizontal or vertical plane.
The rolling mill can also have multiple configurations based on the metal type, thickness and yield applications with a wide variety of feedback options for the roll positioning providing tight output tolerances.  This mill can provide output to tolerances of better than +/-0.0001" ((+/-4um).
At American Steel, we can offer you different options to increase the overall productivity for your equipment.  Some of those options are:
Repetitive reduction schedules
Quick roll change out options
Automatic gauge control features
As previously noted, a compacting rolling mill turns powder(s) from various exotic alloys, like monel, nickel, inconel, alloy 20, hastelloy and chrome-moly, and turns them into a continuous strip that can then be used in multiple industrial disciplines.   Some of the industries that are served by a compacting rolling mill are, but not limited to, integrated mills, mini mills, manufacturing, service centers, construction, and aerospace/military disciplines.
American Steel specializes in buying and selling rolling mills, coil processing, and tube, pipe and metal forming equipment around the world.  We have experience and knowledge that gives us a competitive advantage over others in our field to assure that a customer has the right machine to match the job.  Our team is ready to help you with the right solution for your business.
With over 60 years of experience and a real focus on customer satisfaction, you can rely on American Steel Products for your next project.
We provide professional renovation and installation services with a real focus on customer satisfaction. We have proven results for setting exceptional standards in cost control, planning, scheduling and project safety.